Huge sigh. Starting this morning at 7:45, my summer vacation is officially over. Rather than laying out on the back deck soaking up some sun with The Bode, I will be spending my time in a day full of wonderful mind-numbing (but necessary) meetings.
So I thought it only appropriate to look back on the "Tid + Bits" of Summer 2012. Here are some of my favorite memories of the summer: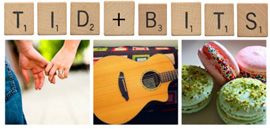 Summer 2012 edition
*The hubs, my parents, and I traveled to Boston to view the Tall Ships.
*I competed in a mini-triathlon with the hubs, my youngest brother, and my uncle.
*Hiked Mt. Monadnock with both brothers, my uncle, and my brother's friend.
*Completed the Tough Mudder!
*Attended Night of 1,000 Cupcakes and (shockingly) only ate one cupcake!
*Spent a long weekend in Lake George enjoying a variety of activities with friends.
*Became a Color Runner for the first time by running in The Color Run New England.
*Went white water rafting on the Penobscot river with my family and hubs.
*Ate more chili than I have ever eaten in my life at the Henniker Chili Fest.
*Went to New York City for the first (and probably last time) in my life.
*Ran in my second Color Run in NYC.
Oh, summer! I miss you already!